Madison, Wisconsin




---

"Quality Photography For All Occasions - I Capture The Action While You Enjoy The Event"




Portraits ~ Modeling ~ Senior Photos ~ Team Posters/Banners ~ Action Sports ~ Video

** Feature Photo Sections **
Welcome to Jim's Photos, LLC! Jim's Photos a full time, full service professional photography company in Madison. WI. If you're looking for great quality photography, you've come to the right place! Each image is professionally edited and color corrected to perfection.


Jim's Photos Services

Portraits Individual and family portrait photos make cherished lifetime memories. (See more)

Modeling
Are you an aspiring model or looking to update your portfolio? Indoor or outdoor. (See more)
HS Seniors
High school senior photos are important for all students. Indoor or outdoor! (See more)
Sports/Events
Whether its High School or College sports or team photos, you can find it all here. (See more)
Water Ski
The beauty and skill of show water skiing is skillfully captured here. (See more)

SSM Health - South Madison Campus
- New Building | Houses Coming Down

---
Jim's Photos studio remains open by appointment. Come on in to create beautiful photos of yourself, family & friends.
Portraits - Individual/Modeling - Sport Photos

Jim's Photos is now offering discounts on individual and family photos. You are invited to come to the studio in Madison, WI and create memories that will last a lifetime. This is a perfect opportunity to do your own school portraits and sport photos. The studio is warm and comfortable. Email info@jimsphotos.com or DM @jimsphotos for details and to make your appointment.


Fall Color Photos

Fall color photos can be done anytime in any weather. Click image for more details
Photo Samples

(Click image for more samples)

---
Jim's Photos, LLC operates a state-of-the-art photo studio on Madison's west side. We are now scheduling Portrait, Family,
Modeling, High School Seniors, Sports and Business sessions soon! Please contact Jim's Photos for more details!
Check out our new "Just For Fun" section too.

2020 Fireworks Photos - July 03, 2020 - Cottage Grove

| July 04, 2020 - Barabooms


Jim's Photos specializes in Portrait, Family, High School Senior, and Modeling photos. We also do Team/Sports & Event photography. What about those Senior Banners and Team Posters you want to do? How about that Modeling or Senior Photo Session you been thinking about? Photos can be taken indoors, outdoors or anywhere you like. My goal is to create beautiful images that you will enjoy and be cherished for a lifetime. Feel free to explore the photos featured on this web site and let me know how we may able to help you solve your photographic needs. Team, Club and Sports discounts are available! View and print photos here. Check out some of my testimonials! Photography is my passion and nothing gives me more satisfaction then capturing these special moments for you. My state-of-the-art studio is located on the west side of Madison, WI and available anytime by appointment.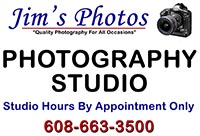 To ensure the very best quality photos, all of my photos are shot using the highest quality professional photographic equipment possible. High quality means sharper image quality and the capability for enlarging any of the photos to a great degree without any noticeable loss of resolution. I am a certified Max Preps photographer so you can be assured of only the best quality. With Jim's Photos, LLC, there are no "packages" to buy, so as always, you pay only for the photos you want.

All photos are high resolution suitable for printing and framing. Large poster prints and banners are available for most images. Jim's Photos, LLC is able to print any photo for you. Throughout this web site, there are sub-sections featuring portraits as well as the many events I cover. You will find thousands of photos posted. Click on the links for the portraits, events, games, or shows you are interested in. You will be taken to my Photo Viewing and Print ordering web site. See how to order photos. Jim's Photos, LLC receives various awards throughout the year. See the latest ones here.

Gift Certificates
Jim's Photos has Gift Certificates available! The gift of a photo session and prints will provide lasting memories for family and friends. Family and individual portraits make wonderful gifts that will be cherished for many years! Contact Jim's Photos for more details.
---
Other Links Of Interest
High School Sports | College Sports | Team / Group Photos

| Find Your Event

| Mad-City GoPro Videos

| Must-Skis GoPro Videos


This Old House

| Swim & Dive

| Obama 2010 | Obama 2012

| Events | Matayla Skiing | Kohl Center Transformation

| Rock Aqua Jays Photos

Lauren Zaharias

| Steve Collins | Sun Prairie Sliders Team | Stoughton Youth Soccer

| Christmas Videos

| Sky Diving

| Star Trails

- Video



Whatever kind of photography you are interested in, we can do it all! Please contact Jim's Photos for all your photographic needs.
Spring starts

soon

on March 20, 2021






TO ORDER PRINTS

Use the button below to learn how to order photo prints and other neat stuff.


Photographers Near Me
All events are photographed by Jim's Photos, LLC unless noted. Select the event you are interested.
All schedules are tentative and subject to change. Photos are subject to availability. Prints are for sale.


= Coming Soon
|

=
Video Available
|

=
Photos Available
| * = Partial Listing |

[d]

= Downloadable |

=
New Photos Posted
Note: Jim's Photos is not affiliated with any school, team, group, club or organization and receives no compensation from them. Photo orders are appreciated!

I try to capture as many games and events as I can and I have photos for all events that are listed, however I don't always get them all posted right away. If you would like a specific event posted, click on the

icon next to the event you are interested in. I will try to give that event priority. "I capture the action while you enjoy the event!"

Jim's Photos, LLC

Jim's Photos On Facebook
Jim's Photos On Twitter

Payments To Jim's Photos, LLC


Special Introductory Offer: For a limited time, you can get 1 "Individual Portrait" photo done for free! No session fee, no strings attached. Please e-mail me for details

and to schedule a time that is convenient for you.



All photos on this web site have been reduced for web site viewing. Actual prints are full photographic quality. All are high resolution photos that are suitable for printing and framing which can be ordered by following the instructions above. Large poster prints are available for most images. Note: Jim's Photos is not affiliated with any team, group, club or organization and receives no compensation from them for his work. Photo orders are appreciated! All photographs and content of website contained herein are the exclusive property of Jim's Photos and may not be used or reproduced in any manner without permission.
---
SET YOUR STANDARD CLOCK


Railroads depend on accurate time keeping to meet schedules and delivery times. Use this handy tool to display official US central time.
Bill Gardner WSOR employee re-union is soon on April 15, 2023 at 4:00 PM
---

Download Jim's Photos, LLC "Photo Release Form" here. | Download Adobe Reader here. If you have the lastest version of Adobe Reader, you can now fill out and sign the form(s) online and e-mail them directly to me!
---
Other web sites created by Jim's Photos, LLC
The Toy Train Barn | Eastside Coin Laundry | Northcentral Railcars | Madison Area Repeater Association | Dahmen's Pizza Place
Central Wis Repeater Association | Greyhound Janitorial Service | Wave Communications | Pollo Inka Peruvian Restaurant | Beaverland Must-Skis
---
Home | Ordering Prints | Information | Weddings | Sports / Team | Seniors | Pricing | FAQ | About Us | Room For Rent | PAY |

Contact Us
Modeling | Preview 1 | Preview 2 | Preview 3 | Gallery 1 | Gallery 2 | Gallery 3 | Photo ID | Feedback | NOAA | Motorcars |

On-Line Store

---
Jim's Photos, LLC
PO Box 14592 - Madison, WI 53708-0592
Ph 608-663-3500 Ext 0 (Office) | Text: 608-352-6899
www.jimsphotos.com | Email Jim's Photos
[ About Me ] [ Folio ] [ Site 2 ]
[ Information Request ] [ Feedback ]

Search Jim's Photos
| | |
| --- | --- |
| © Jim's Photos, LLC, 2021 | Site Visits: | |
No part of this web site may be used or reproduced on other sites or in print without the permission of Jim's Photos, LLC.