Quality Photography For All Occasions - Madison, Wisconsin




Portraits ~ Modeling ~ Senior Photos ~ Team Posters/Banners ~ Action Sports ~ Video

Madison State-Of-The Art Photo Studio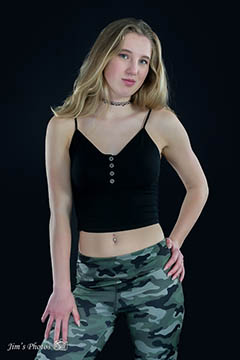 Jim's Photos owns and operates a state-of-the-art modern photo studio on the west side of Madison, WI. The studio employs only the very best studio lighting and equipment. The atmosphere is very warm, friendly and comfy too. The sessions are affordable and as always, you pay for only the photos you want. There are no "package deals" and no limit as to how many outfit changes you can have. Your photos will be clear, sharp, clean and natural. Please contact me to learn more information about how to set up your photo session and what can be done. See my studio portfolio gallery for samples. Check out some of my testimonials!

Your session(s) can be done any time that is convenient for you. The studio is available 24 hours by appointment. I'm open to any style or theme. This way you can have photos taken that reflect the real you.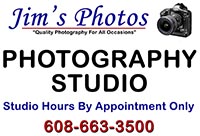 I love all photography. I created Jim's Photos, LLC many years ago to provide great images at an affordable price. I use only the very best photographic equipment available and on-location studio lighting. I have an artistic eye for capturing outstanding images with great composition. Every image I complete is fully edited (re-touched) and color corrected to perfection. The more I do this, the more I raise my bar when it comes to quality. My objective is to provide high quality images that you will be proud of. Your photos will be clean, natural and clear. Your photos should be all about you and what you want. Some ask the question: With all the DSLR cameras and iPhones out there, why pay for Portrait Photos? Well the answer is simple. By hiring a professional photographer you get better quality images. A professional will know how to make you look your absolute best. Additionally, a professional will take the stress out of planning and presenting your photos. Your photos will be in your own gallery on my secure photo server. Your beautiful photos will be cherished for years to come and will do wonders for your confidence.
Studio Photo Samples

(Click image for more samples)
| | |
| --- | --- |
| | |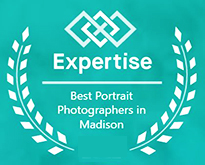 Although I specialize in Team/Sports photography, I also proficient with Portrait and Artistic photography as well. I prefer outdoor/nature venues and am open to any setting. My style is casual and laid-back and I'm very easy to get along with. The session isn't going to be stiff and formal. I can direct you if needed, but most often, you will look your best when you're just interacting naturally. I'm open to pretty much anything so if you have something in mind please let me know. If you had a specific idea in mind, please tell me before the session so I can be sure to come prepared.

I do complete retouching on all your proofs, so please don't worry about minor imperfections on your face or skin.

Hair, Nails, Make Up
Try to keep it simple. If you're getting a hair cut/color, you might want to do it a week or so before your session in case you need to make adjustments. Also, try to avoid glittery make-up and reduce the oil on your face as much as possible to avoid glare.

Digital Backgrounds
Jim's Photos offers a wide choice of digital backgrounds. Actually, you can have any digital background added to your photos. The actual session will be done at my Madison studio and the backgrounds added during post processing. Please browse through my many available backgrounds here.

Other Info
It would be nice to chat with you before hand and find out what you are looking for. We can discuss your ideas and props. You can or bring along photos from a book or magazine showing the look you want. See my studio portfolio here and some more samples here. I will take approximately 100+ images and you can have as many outfit changes as you like. My session fees are a flat rate $145.00 for a 2-3 hr photo session. Additional time may be purchased. This includes 30-100 completely edited digital files suitable for fb, etc. (High resolution prints charged separately.) The session fee may be reduced or waived at the discretion of Jim's Photos, LLC depending on current specials, discounts and other factors. Sessions can take anywhere from 1-3 hours. My rates are very reasonable. I offer discounts to clubs, schools and organizations. Have Jim's Photos take your Portrait photos and you'll receive a FREE Facebook image of every portrait ordered!

You are encouraged to bring someone along to the photo session: Mom, Sister or best friend. Anyone under 18 should be accompanied by a parent or other responsible adult. Jim's Photos wants your portraits to be just what YOU want and would like you to bring what ever props interest you. If you are in sports, bring your sports equipment, uniform or jacket, a musical instrument, your best friend, or a favorite hat or scarf! All persons being photographed must have a signed photo release form on file. If under 18, this must be signed my a parent or other responsible adult. You can download and print photo releases here. This gives me permission to do the photography. If you have the latest version of Adobe Reader, you can now fill out and sign the form(s) online and e-mail them directly to me!

Be sure to see our "How To Prepare For Your Photos" section for more details. There are many different portrait possibilities and as always, you purchase only the photos you want. Give Jim's Photos a try. My prices are the best in town and all proofs and finished photos will be available to you to see. See some of the samples here and below. Please contact me for more details. Check out some of my testimonials too!

All photos can be printed in any any size and style. Each event has 2 galleries both containing identical images. One gallery is for ordering prints and the other, marked with a [d] is for digital downloads. Additionally, I can order larger posters of any size for you as well. The 18"x12" posters are a great value for only $12.00. Contact me for details!
Release Downloads
Modeling Photos | Senior Photos Release


TO ORDER PHOTO PRINTS


Jim's Photos is able to print any photo for you. Use this button to learn about ordering photo prints.

** Ask about Team/Group Discounts Coupon Codes **
All events are photographed by Jim's Photos, LLC unless noted. Select the event you are interested.
All schedules are tentative and subject to change. Photos are subject to availability. Prints are for sale.


= Coming Soon |

= Video Available |

= Photos Available | [d] = Downloads Available | * = Partial Listing |

= New Photos Posted
Note: Jim's Photos is not affiliated with any school, team, group, club or organization and receives no compensation from them. Photo orders are appreciated!

We know you are out there working hard with your school work. We are working just as hard in the studio to get that perfect image. Jim's Photos uses the highest quality digital photography equipment on the market and is always looking to stay ahead of the technology.

No matter what size photo you want, our 'View & Print' photo site offers you the most options for your individual needs. In addition to photos, we offer many other fun and exciting products. These products can make great gift items. Click on the merchandise tab to make your selection.
---

I try to capture as many games and events as I can and I have photos for all events that are listed, however I don't always get them all posted right away. If you would like a specific event posted, click on the

i con next to the event you are interested in. I will try to give that event priority.

Payments To Jim's Photos

---
Jim's Photos On Facebook
Jim's Photos On Twitter
---
---
Special Introductory Offer: For a limited time, you can get 1 "Individual Portrait" photo done for free! No session fee, no strings attached. Please e-mail me for details and to schedule a time that is convenient for you.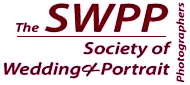 All photos on this web site have been reduced for web site viewing. Actual prints are full photographic quality. All are high resolution photos that are suitable for printing and framing which can be ordered by following the instructions above. Large poster prints are available for most images. Any information appearing on the photo (watermarks) will not be present on your prints. Note: Jim's Photos is not affiliated with any team, group, club or organization and receives no compensation from them for his work. Photo orders are appreciated! All photographs and content of website contained herein are the exclusive property of Jim's Photos and may not be used or reproduced in any manner without permission.



Search Jim's Photos
So whatever kind of photography you are interested in, whether it be Portraits, Sports, School, Concerts, Weddings, Graduations, Birthdays, Family Groups or Events, Modeling, Holiday, Real Estate, Construction Work, Trains / Boats, Industrial / Commercial, Advertising, Outdoor, Indoor, or just about anything you want, I can do it all!

Download Jim's Photos "Photo Release Forms" here. | Download Adobe Reader here.